The difference between ordinary and extraordinary is the little bit extra.
If Vienna is your city for celebrating all big important moments in your life we are your partner.
We are clear, fresh, focused, Viennese and female.

Mag. Sabine Hoffmann,
founder ambuzzador
Elisabeth Brandl feels people and brands and restages every event with her heart and senses. Competently and with so much Know-How she turns every event into a memorable moment for every person involved!
Helene und Kurt Fuchs-Steinklammer, Weingut Fuchs-Steinklammer
Elisabeth Brandl has planned our Silver-Wedding anniversary with a lot of charm and humour, a good eye for aesthetics and harmony, stress-free and thought-through. We've enjoyed this time so much, everything went well wonderfully. We will continue to count on Elisabeth Brandl as an excellent Event-Manager.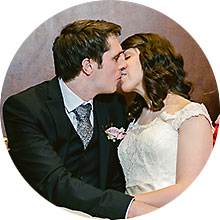 Amanda und Matt Withfield, Bristol UK
Our dream, to get married in fabulous Vienna became reality. Elisabeth knows her job, her town and is able to combine both with a lot of good vibes.  Our families enjoyed wonderful days with us in Vienna. Thank You, Elisabeth, you did much more than a great job.


The last impressions
Be inspired by our last events!